What is Handmade Soap?
Posted on
I have been making Handmade Cold Process soap since I was given a book my Tatyana Hill back in 2004 when I started developing allergies to skincare and other household products.
This book was visually spectacular and gave me a lot of inspiration in my early tries but I never quite got the results I expected. There are different types of soap and for many people the hard smooth shiny bars from Imperial Leather or Cussons where all we knew of soap. Commercial soap is made in huge vats using the continuous method which essentially means ingredients are added to the vat and sometimes by products of the chemical reaction are removed because they are more valuable. A good example of this is Glycerin which is a product of the reaction between the oils and the sodium hydroxide (commonly known as Caustic Soda) glycerin is a naturally moisturising ingredient used in other cosmetics and is highly prized. Extracting this can mean the soap is less moisturising which can give rise to the common refrain I hear in the shop that people cannot use bar soap because it dries their skin out.
Handmade Cold Process Soap is a very different beast and I have spent years educating people on the vast difference in how works and what is does to your skin. As you can imagine I am a passionate convert and nothing but my own soap has been on my skin or my families skin since 2004! Handmade soap is made in small batches in a pan by melting the oils, adding water and caustic soda and blending until it thickens before adding essential oils, clays, herbs and other natural ingredients designed to enhance the soap. Sometimes additional oils are added to make the soap more moisturising and sometimes you can add milk instead of water which has natural benefits.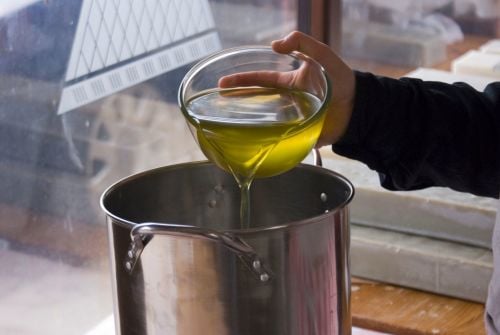 I have always loved passing on my knowledge and have taught many people over the years how to make soap that can be tailored to each person using it and is a simple a cost effective way of saving money and plastic by making a large batch once or twice a year to last your family for washing, shampoo, cleaning and gifting throughout the year. I am starting to teach soap, skincare and candle making again and am hoping to take my workshops on the road to a community hall or space near you in the next few months. If you want to learn a usefull skill using your own herbs, goats milk and other natural ingredients please get in touch for availability.
Thanks Sarah